My Journey
Although I have been living in New York since 1984, I was born and raised in Malaga, Spain. Being from Andalucía, the cradle of Flamenco music, I have always loved and admired the guitar. I grew up surrounded by the sounds of this wonderful instrument yet I did not play it. Around 2013, my wife came home with an acoustic guitar that she had pulled out of the trash. That was the impetus for what was to follow. I took some lessons, learned some cords, and soon I was playing simple tunes. But I was not satisfied. The sound of this guitar was not the sound I remembered growing up. I wanted to learn how to play "Flamenco", and so I was given a classical guitar, passed down from my wife's grandfather that he had purchased years prior in Mexico. This was a much better instrument and the sound was closer to what I remembered.I started to take lessons in the Flamenco genre, but ended up studying classical music instead. Eventually, practice was side-lined as I injured the fingers on my left hand and could not play for a few months. It was then, around 2016, that I told my wife I wanted to build a classical guitar. She looked at me as if I were crazy. I took that look as a challenge; I decided to surprise her and secretly build one. The rest is history.The first instrument I built was a ukulele from a kit. I figured that would familiarize me with the building process. It proved to be the right decision. That was followed by constructing another uke, going through the same process but making modifications of my own. I caught the "luthiering bug" and haven't stopped since. In 2017 I embarked on my first guitar build; no kit involved! I loved every second of it. Yes, I did certain things the hard way not being familiar with the tricks of the guitar-building tradition regardless of the many YouTube videos I watched or books I read cover to cover. But the final product of this build was beyond my expectations in sound and appearance. It took me almost an entire year to complete, exclusively using hand tools with the exception of a drill.I wanted to start another guitar right away, but I realized I would benefit from a teacher and a course. I found a luthier, Pablo Requena, who was giving month-long intensive workshops. When I discovered where his courses were held my mouth fell to the floor; he was teaching in my home-town in Spain. This was meant to be!In 2018 I went back to Malaga, staying in my parents' house and commuting thirty minutes to the atelier. This was the true turning point in my guitar-building career. What I learned was invaluable; not just how to do things the correct way, but how to understand the properties of various woods, problem solving, and jig building as well. The end-product of this class was another beautiful, highly detailed instrument.Since then, I have continued honing my craft; making more intricate rosettes, laminated necks, more detailed purflings, playing with the design of the bridge, and varying the size of the guitar building the Torres FE17 size model. The sky is the limit!
s
First and second builds!
From the left. Me holding my first guitar. Alex, Pablo and me at the end of our course in Spain. We had a concert where very accomplished Spanish guitar players played our instruments. Working on a rosette in my workshop. Me playing my second guitar build!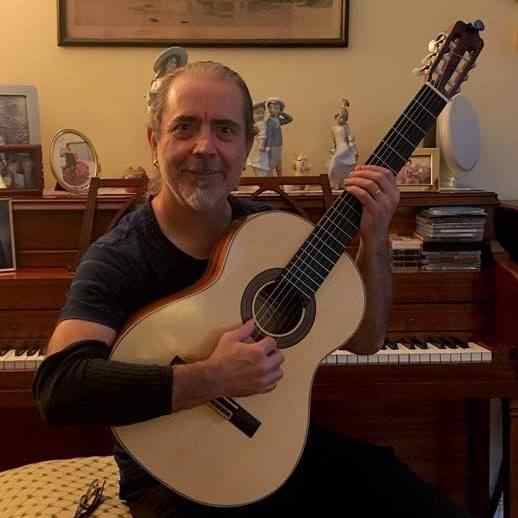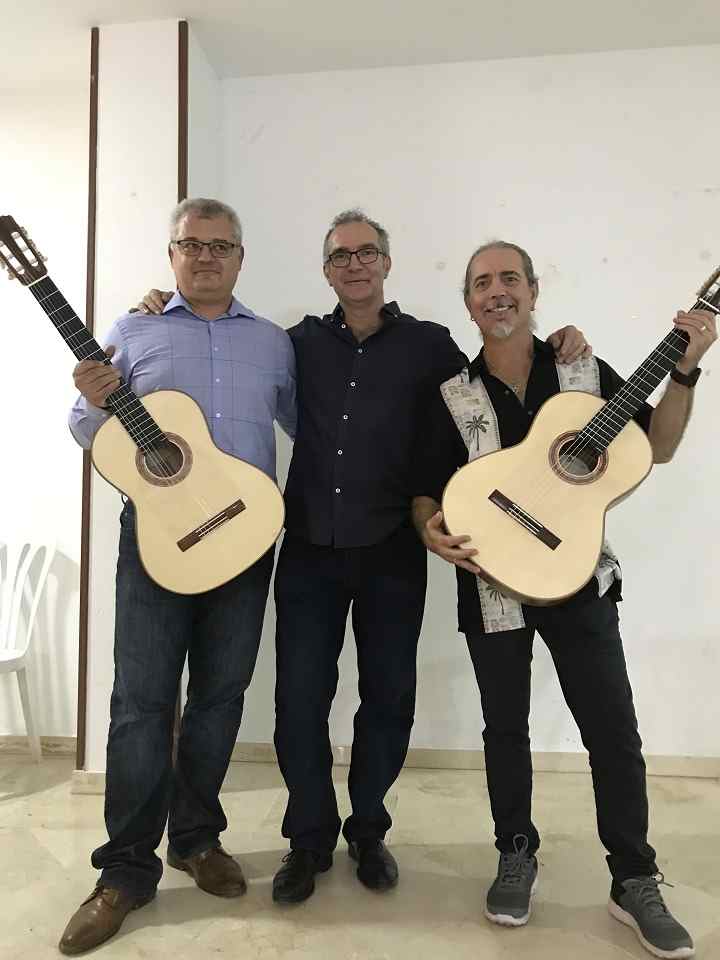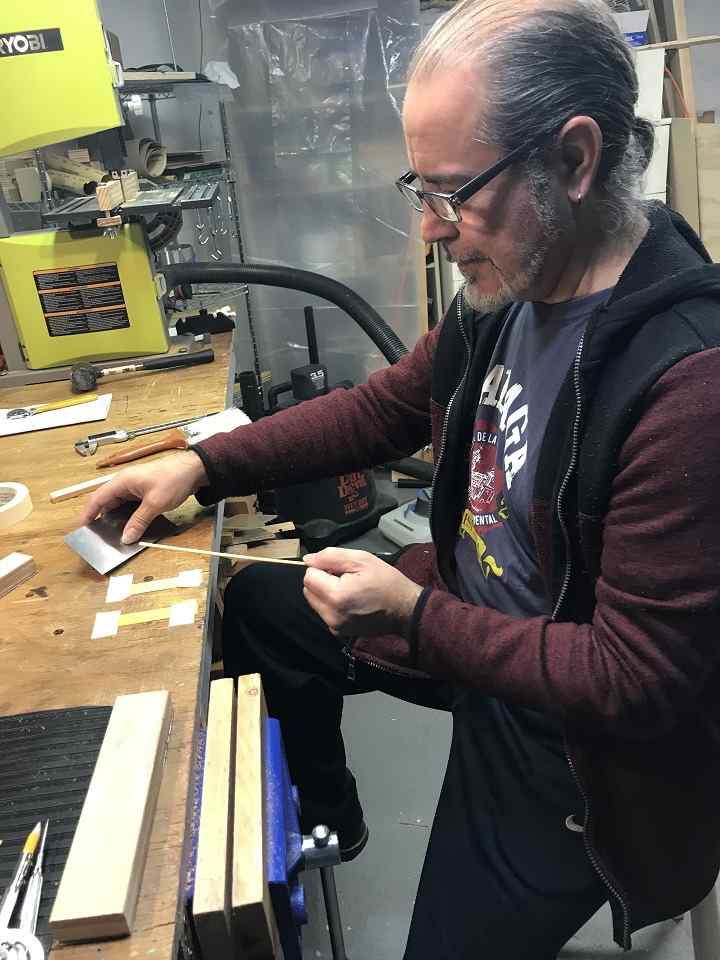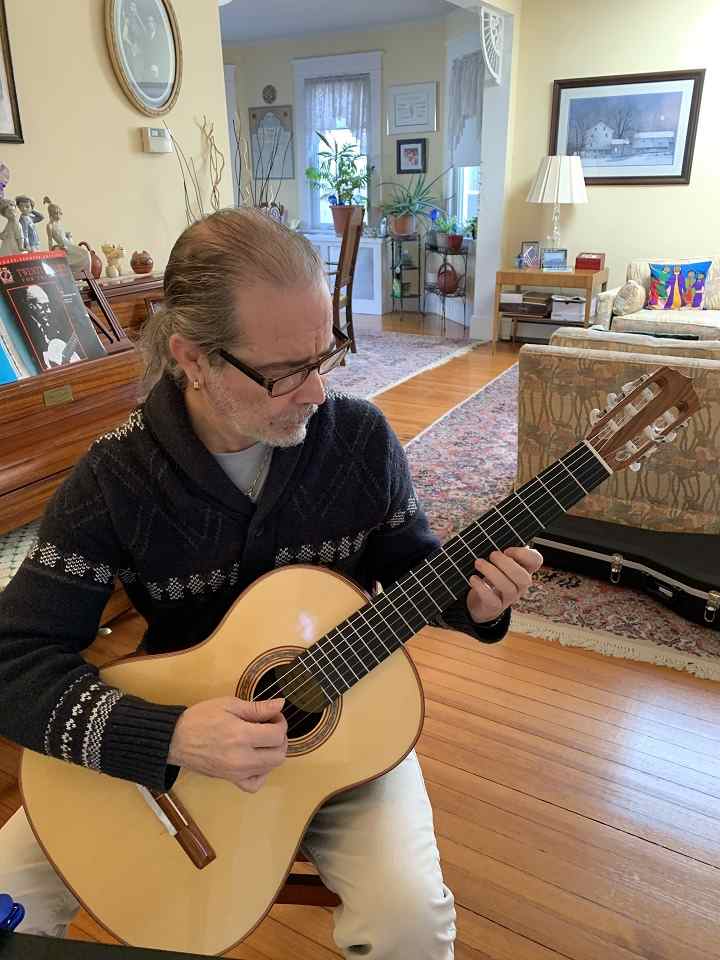 Get in Touch!
Please send a message and we'll get back to you as soon as possible!
And thank you for taking the time to contact us!